While Chicago is a familiar backdrop for hit TV shows, it's always a treat to see our amazing city highlighted on screen. That was the case with season two of The Bear, Hulu's fictional show about Carmy Berzatto and his family transforming their Italian beef spot into a world-class restaurant. 
While Mr. Beef in River North is prominently featured in season one, this season includes a wider range of Chicago hot spots, from Michelin-star restaurants to casual pizza joints. And it's not just restaurants that were showcased. From stunning skyline shots to music from local artists like Mavis Staples, this season of The Bear is a true love letter to Chicago.
Here's a list of the Chicago restaurants, bars, and beyond featured throughout season two of The Bear: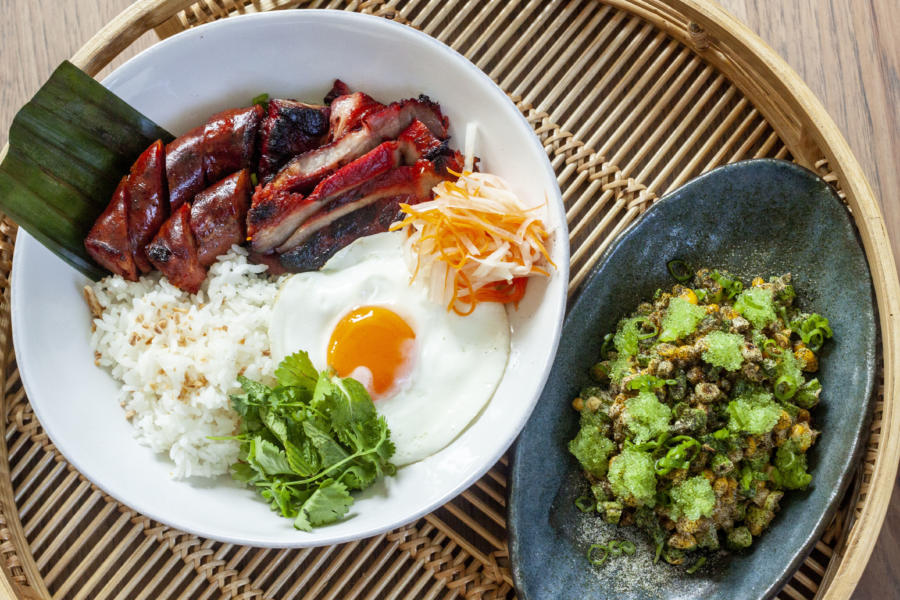 Kasama: One of the season's most noteworthy scenes is when Syd kicks off her Chicago food tour by breezing into Kasama without a line out the door. The bakery (by day) and fine dining establishment (by night) is the first Filipino restaurant to win a Michelin star. If you want to copy Syd's order, get the mushroom adobo, the breakfast sandwich with longanisa (Filipino sausage), a crispy hash brown, a mango tart, and a matcha latte. Just be sure to get there early — it's worth the wait. 
Lao Peng You: You'd be hard-pressed not to mention the drool-worthy dumplings coming out of the Lao Peng You kitchen. This Ukrainian Village restaurant is run by two brothers, Daniel Wat and Eric Wat, who make cameos throughout episode three. You also get a quick glimpse of the acclaimed Cong You Bing being rolled out, a green-onion, and sesame-studded bread that's always made to order.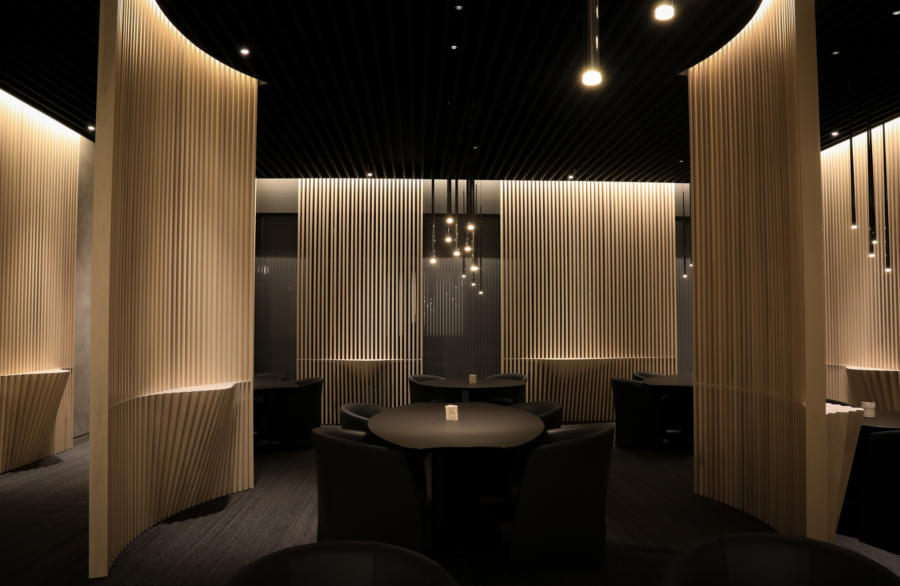 Ever: In the episode titled "Forks", Richie takes a turn staging in a fictional three-starred Michelin restaurant. The scenes were actually shot in the real Michelin-starred Ever in the West Loop. Much of the depicted experience was true to life, including the restaurant and kitchen's interior, top-notch service, and even one of the food courses, although we can't guarantee that Olivia Coleman will be found meticulously peeling mushrooms in the kitchen anytime soon.
Also, the scenes of Marcus perfecting his dessert skills in Copenhagen are actually shot at After, the companion cocktail lounge of Ever.
Pequod's: During his stint at the fictional version of Ever, Richie is made to run and pick up Pequod's, one of the city's most popular deep-dish spots. While the slices in the show are given the Michelin-star treatment, we promise that Pequod's famous caramelized pies are delicious just the way they are.
Pizza Lobo: In another pizza shoutout, Syd enjoys a thin-crust slice of pepperoni from Pizza Lobo's Logan Square location. The menu offers a variety of pies, including to-go slices available from their walk-up window.
Avec: Syd gets a pre-service sneak peek at Avec, where she gets advice from Donnie Madia, famed Chicago restaurateur of One Off Hospitality Group (and one-time employee of the real Mr. Beef). Avec, situated on Restaurant Row in the West Loop, is beloved for its shareable Mediterranean menu. 
Publican Quality Meats: Continuing her West Loop adventure, Syd also stops by Publican Quality Meats in Fulton Market and gets a butcher lesson from PQM's very own Rob Levitt. PQM also features a cafe lunch and brunch menu, including some of the neighborhood's best sandwiches.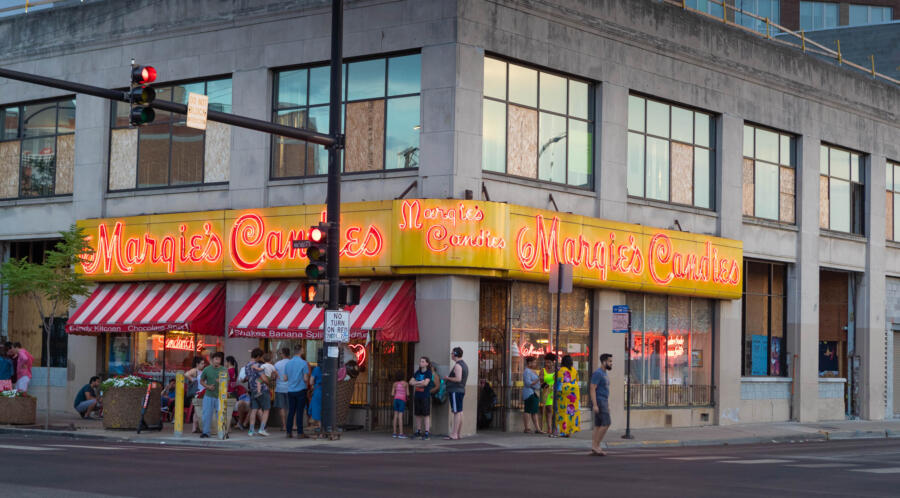 Margie's Candies: In the aptly titled episode "Sundae", Syd's food tour wraps up at Margie's Candies in Logan Square. The iconic 90-year-old ice cream parlor is known for its homemade ice cream, milkshakes, and classic sundaes in old-school clamshell dishes.
Giant: In episode three, Syd spends time at a fictional French restaurant to chat with a fellow chef about opening The Bear. Even savvy Chicagoans might've missed that the spot is actually the Logan Square restaurant Giant in disguise. One of the coolest aspects of this scene is that it actually features real Giant chefs working in the background. 
Elske: Toward the end of episode three, we see Syd call up a chef friend who ends up being none other than David Posey of Michelin-starred Elske in the West Loop. Chef David gets a quick cameo before seeing Syd get comfortable in the Elske kitchen to test out a new pasta dish. 
And that's not all. From Nat sipping her iced Dark Matter coffee, to Syd's architecture river cruise through the heart of the city, to Tina singing her heart out at Alice's karaoke lounge in Avondale, there were plenty more quick, Chicago-style moments highlighted throughout this season of The Bear. 
As you finish up the current season, might we also suggest picking up a slice of Marcus's famed chocolate cake from season one? You can grab a slice of The Bear chocolate cake from Avondale's Loaf Lounge. Or try an over-the-top Wagyu Italian Beef sandwich with raclette cheese whiz inspired by the show from Kindling Downtown Cookout and Cocktails.
Chicago celeb cameos in The Bear
Chicago-born Alex Moffat, an alum of The Second City and Saturday Night Live star, is hired to The Bear kitchen crew.
"Fishes", the season's flashback Christmas episode, features a star-studded cast that includes Chicago comic legends like John Mulaney and Bob Odenkirk.
The soundtrack features music from Chicago-based legends like Mavis Staples ("

You Are Not Alone" and "I Like The Things About Me"),

Wilco ("Handshake Drugs" and "Spiders (Kidsmoke)"), and The Smashing Pumpkins ("Tonight, Tonight").
More Chicago references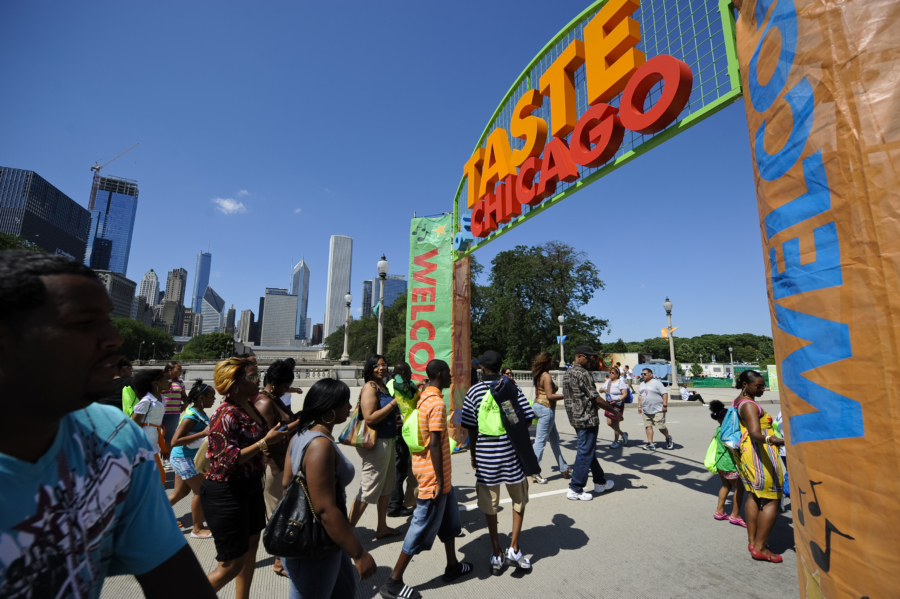 Almost every episode features gorgeous establishing shots of the city, including the Carbide and Carbon building, Lake Shore Drive, Navy Pier, Wrigley Field, the Chicago Board of Trade Building, and Chicago's famous 'L' system.
In Episode 1, we see a Potash receipt in Carmy's apartment. The chef-approved specialty grocery store has locations in River North and Old Town.
In Episode 2, the gang discovers a hat commemorating Taste of Chicago, Chicago's iconic summer food festival.
In several episodes, Tina and Ebraheim attend culinary school at the esteemed Kendall College. Later, Ebraheim gazes out at Lake Michigan from the Chess Pavillon on the lakefront. 
Blink and you might miss the Superdawg callout in Episode 5. Claire takes Carmy to a house party that's catered by the one and only Norwood Park hot dog institution, Superdawg, with to-go boxes that we can only presume are filled with iconic Chicago-style hot dogs. 
In "Fishes", John Mulaney's character tells Fak about the sale of a Roberto Clemente baseball card. The Puerto Rican athlete has a high school named for him in Chicago's Humboldt Park neighborhood.
While in Denmark, Marcus compares being a sous chef to one of Chicago's most legendary duos: Michael Jordan and Scottie Pippen.